Eva L. Clarke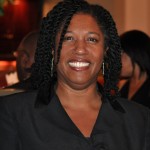 Pastor & Co-Founder
Children's Church Coordinator
Life Church 
Eva Clarke (née Gilliam) was born in San Rafael, California. When she was a young girl, her family relocated first to East Saint Louis, Illinois and then to the neighboring town of Belleville. The experience of living in East Saint Louis during the city's stark decline prompted Eva's initial interest in community and economic development. Eva left Belleville in 1977 to attend the Massachusetts Institute of Technology (MIT) where she majored in Urban Studies and Planning and earned an S.B. degree. There were a number of Christian influences in her life growing up including her grandmother, aunts and uncles in Chicago, IL. While a student at MIT, Eva gave her life to Christ. There she also met and married her loving husband Rocklyn E. Clarke Sr.
Eva has enjoyed a fruitful career in the Community Development Arena having worked or served in the following positions:
Eva is the co-founder of Life Church Ministries in Boston, Massachusetts together with her husband, Rocklyn E. Clarke, the Senor Pastor. She serves as Pastor. Eva was ordained under Church Without Walls International in October 2007 during the annual Covenant Convention of New Covenant Christian Church (now Jubilee Christian Church).
Eva is an alumna of the Massachusetts Institute of Technology (MIT) (Class of 1981) and received her S.B degree in Urban Studies and Planning there in 1990.
Current organizational affiliations:
She is a former member of the Urban Land Institute.
Eva and Rocklyn have one son, one daughter and, as of 2014, four grandchildren with another on the way.