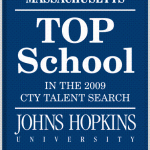 Congratulations to Parkside Christian Academy, which has been named a "Top School" for the state of Massachusetts in the 2009 Johns Hopkins University Center for Talented Youth (CTY)Talent Search.   CTY Talent Searches identify, assess, and recognize students with exceptional mathematical and/or verbal reasoning abilities.  They looked at the top 100 schools by state to determine the number of student enrollments they received into their annual Talent Search, and Parkside was recognized for this honor.   The honor signifies that Parkside has a solid core of very high achieving students.
Congratulations Parkside students, parents and staff!!
For more information about the CTY program and the honorees, please go to www.cty.jhu.edu/ts/topschools/MAtop.html.